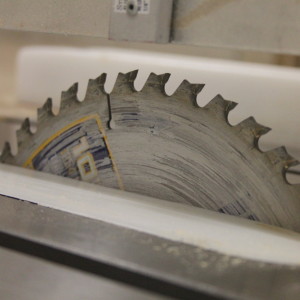 When it comes to customized shipping crates, we love a good challenge. If a client contacts us for help packing a challenging product – and packing it fast, usually – we jump at the chance. Many times we don't even have time to draw schematic designs. We just arrive onsite, take a look at the product, and go for gold.
For Example, our most recent project demanded some thought and expedited delivery. Our customer needed to have 10 aluminum tables shipped overseas. Originally, the customer planned to stagger all 10 tables into a single, heat-treated wooden shipping crate.
However
When we arrived onsite, we had to think about space constraints – there must be some way to reduce so much voided space. Not to mention the crate would've been huge. We figured out that if we built two crates instead of one, fitting 5 tables into each, we could maximize space and cuts.
Side Note about Cuts for Shipping Crate:
Wood sheeting comes in standard sizes (4 ft. x 8 ft.). If we try to stick within those dimensions when creating customized crates, we can make less cuts and less splices on the panels, lessening the time and effort spent on each crate panel. Less time equals less cost. We always aim for what's cost effective.
We Came Up with a Solution!
We ended up offsetting each table left to right after lining the inside of the crate with one-inch polyethylene foam. We built foam "stairs," each step being the height of the table, so that the tables were packed pretty tightly. We added some foam blocks to secure them even more for overseas shipping.
Our packaging is fast, and we never charge extra for expedited projects. It's the nature of the packaging industry – we get that. What's more, your packaging order may change. Don't worry about it! We'll come back onsite to modify the packaging till it fits the product. That's why we build everything on demand.
Thinking how to package your next product with customized crates? We're only a phone call away! (585) 265-3098